I had some cans of peaches in my pantry and decided to try making some hand pies with them, and they came out really well! I don't have much luck when I try to just throw something together, but this one is going in my cook book :) I had to search online for an idea of how to do them and decided to mix together a lot of the information I came across.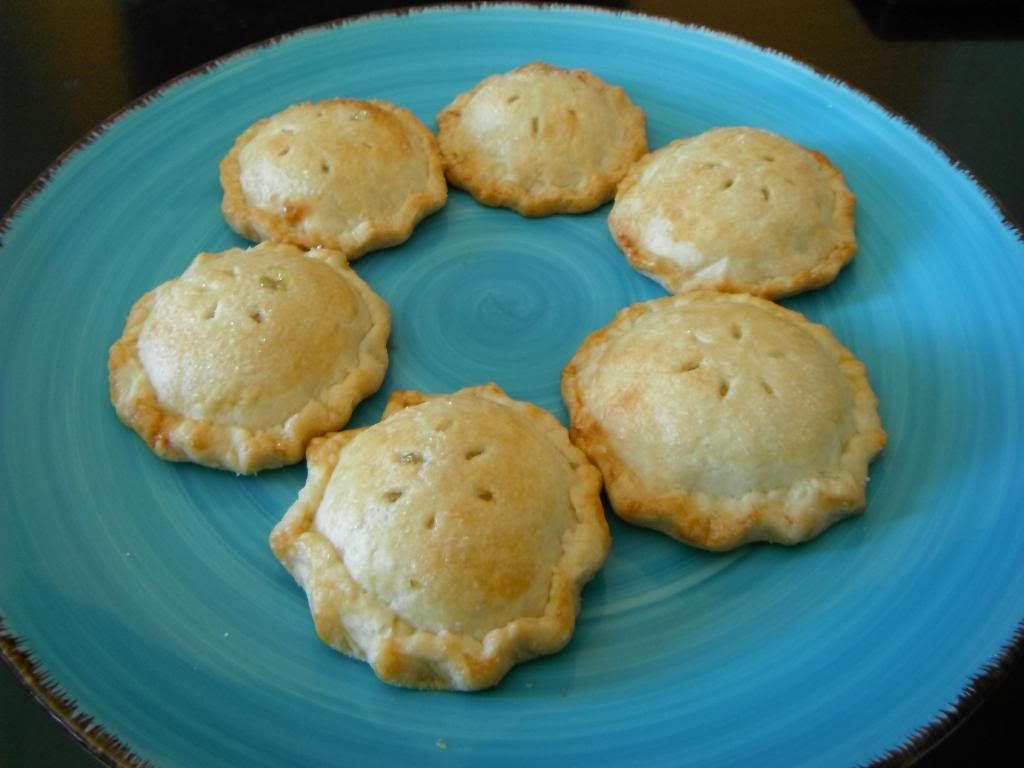 you'll need enough dough for two pie crusts, or you could make one and just use half the filling recipe for 12 hand pies and save the rest of the filling in the fridge for later. I like using the tart crust recipe below, but I found a good looking one the other day at
FoodWishes
that I
really
wanna try.
RECIPE FOR ONE 9" CRUST: (double this for full recipe of 24 hand pies)
1 cup flour
6 TBSP cold butter
1 egg yolk whisked with 2 TBSP cold water
cut the butter into the flour until just blended - don't over work, add egg and water mixture and form into a ball. wrap in plastic and chill in the fridge. the things to keep in mind about pie dough is to use cold ingredients, work it cold, and keep it cold.

FILLING:
1 can of peaches (or other fruit) in water
1 cup sugar
2 TBSP cornstarch
1/8 tsp nutmeg
1 TBSP butter
mix sugar, cornstarch, and nutmeg in a sauce pan and add butter and juice from the can of fruit. cook over medium heat stirring constantly with a whisk until thick enough that when stirred it leaves momentary open spots in the bottom of the pot, add fruit back in and stir until fruit is warm and in small bits. let sit and cool.
section the dough evenly into 48 balls (or 24 if you only made one dough recipe) and roll each one out thinly between sheets of plastic wrap with a rolling pin, or press flat under a plate until it's about 4" across. brush the bottom round of dough with egg white to act as a glue for the top round, spoon about a tablespoon of filling in the middle and place the top round over that. mash the edges down, then roll them over themselves and crimp to make sure they don't open up when they cook. add a few slits in the top so steam can escape, brush the tops with egg white, and then sprinkle them with sugar. bake at 400°F for 18 minutes or until lightly browned.
I baked mine in a greased glass baking dish so I could check on the bottoms, but a baking sheet is fine to use, too. you can also buy pre-made dough, and just thicken pie filling from a can or use marmalade so these are even easier.